Well, I have decided to start a blog since so many fun things happen, interesting people we meet and places we go. I am always asked, "how did your show go?" or "what's new in the shop?" etc. We have made so many friends along our travels, it is fun to keep in touch!!
***********************************************************************************
                  AHHHH, SPRING....2016.
What a busy and crazy start of 2016!!! Winter is behind us and spring is in the air. It was 72 degrees today!! Time to open all the windows, let the fresh air in, and clean house. I always feel 'renewed' with springtime. First off, it is Easter, Resurrection Sunday, and how blessed we all are. As flowers peek through the ground, buds show on the trees, babbling brooks overflowing with winter's melt, birds singing and the sun shining, I feel reborn, and uplifted. This beautiful world that God created is such a gift to all of us. I cannot wait to get my hands dirty as I plant my gardens. I am looking at seed catalogs, and thinking of what herbs I want to grow. It is all just so exciting! We are also into our show season, with two under our belt and the third one this weekend. We have met so many amazing people. It is so wonderful to see old friends that we haven't seen throughout the winter, all the hugs and catching up. We truly are a family and it grows with every year as new collectors come to the shows and we become 'kindred spirits' right away. It is getting hard to find great, early pieces, country primitives. Some say those collecting have dwindled but that is not true, at least not for us. Our wish list is filled with 'wants'. What is dwindling are the antiques, they are either in private collections or few and hard to find. We put literally mile upon mile trying to find the BEST and all hand picked. Most come with a great stories of where and when these items were originally found. Today, most of our found treasures are coming out of private collections, elderly people downsizing and lovingly handing over their pieces and memories to us. I truly appreciate each and every one of you that put your trust in Steve and I. These people are now family too. So, we will be doing shows, travelling the back roads for great primitive antiques and hopefully, making great friends along wth way. God Bless!!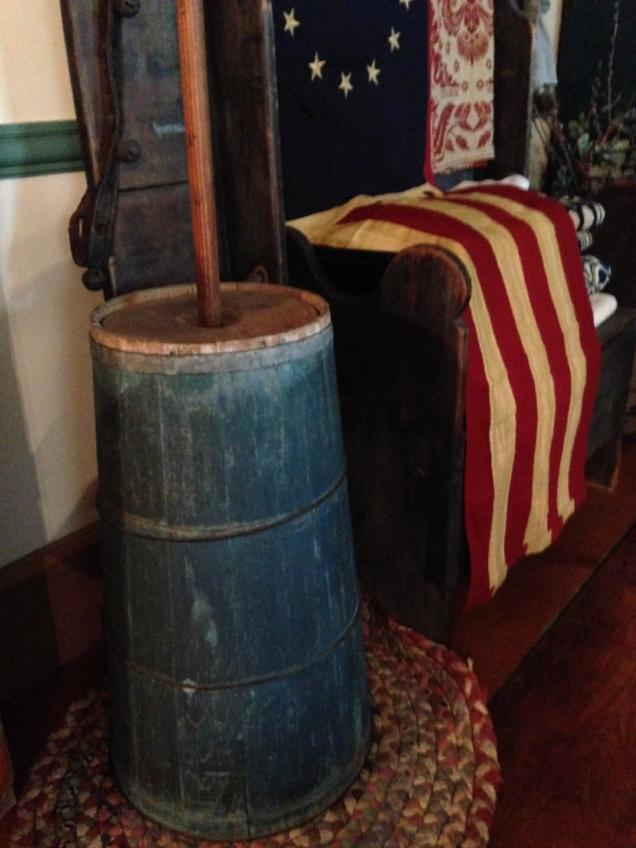 EARLY MORN IN WINTER
It has been awhile since I wrote on my blog. Time does seem to get away from me, and before you know it, we are in another year, another season. As the early morning light was filtering through my window this morning, I grabbed my camera to capture 'the moment' before it vanished. My favorite time of the day is early morning. There is a short period of time when you feel the world belongs just to you. If you are quiet, in this time of winter, you can hear the sounds of nature. Wind rustling through the bare branches or through the pines, a swish of left over leaves as they brush the now frozen ground, the sound of birds as they sing their morning songs, squirrels out rummaging for food, it is all just so peaceful. After such a busy spring right through fall, with shows, the shop, traveling mile upon mile, looking for great primitives, this is a time to slow down and just enjoy. One friend said "God gave us winter to reflect on our lives and be still." I like that, "Be Still". Our contracts are coming in, shows will be starting up again and it is an exciting new year ahead. Steve and I are so blessed, we have had our antique business for over 30 years and this is our only business. We are dedicated to it because we love it. We still get excited over a wonderful "find", excited when we see old friends and new ones alike that love our "stuff", but right now, with winter at hand, we are going to "Be Still". Enjoy my friends and thank you, for your support, kind words and patronage. Happy New Year 2016 Carol and Steve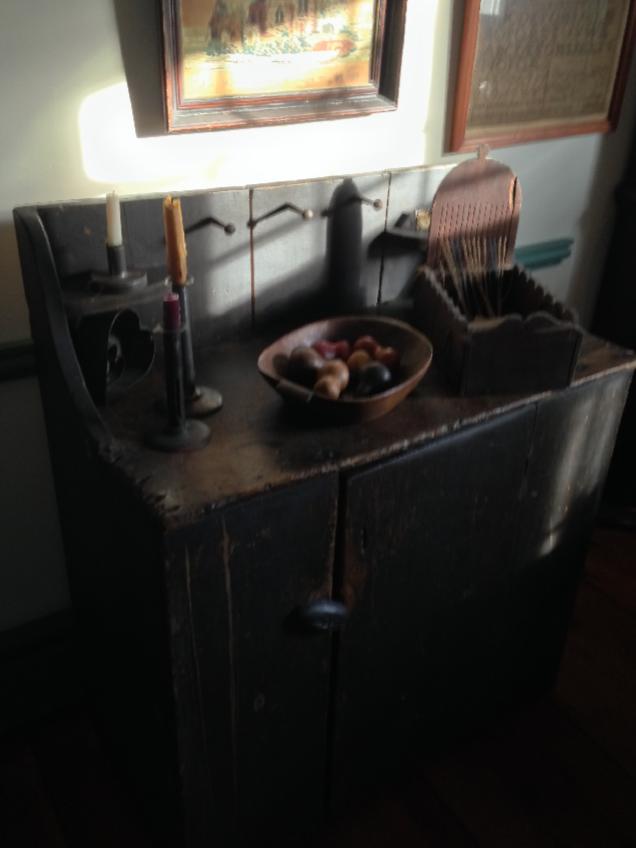 **********************************************************************************
                      SPRING HAS ARRIVED, SUMMER ALMOST HERE
I thought spring would never get here, cold weather hung over much of the land and I was beginning to think, spring will never arrive, but it did and I was very happy to see it. There were some teasing days when the temperature dropped cold again, but finally, tulips and daffodils, forsythia and all the welcome spring flowers bloomed. What a joyous sight. As the warmer weather approached, (we don't plant flowers, vegetables until after Mother's Day due to frost?) I started getting antzy about my gardens. Oh, I couldn't wait to get out there, clean up winters mess and get busy and busy I have been. After many trips to the nursery, jeep filled with plants, I can say I am halfway there. We took out two major bushes in my garden, they got too big and were choking out my LAVENDER!! heaven forbid, you know how I love lavender. So, we replanted the Shasta daisies down by the creek, where they can grow to their hearts content and my lavender can flourish. But..now I have huge areas to plant...so much fun. I look at it like rearranging the house, you get tired of a certain look and need a change. I will post pictures of the new gardens when they are finished. We are also into our show season and THAT is exciting. After a long winter, I was ready to hit the road and get busy, back to crowds and excitement over antiques. We have a few shows done, which were a huge success. Thank you for the great sales, compliments and hugs. Those are the BEST!!! Summer is around the corner, it was hot and humid again today. Typical New Jersey. Looking forward to our antique trips, shows and looking for great primitives and just having fun. Will keep you posted. Here are a few pictures of the gardens, so far!! Blessings, Carol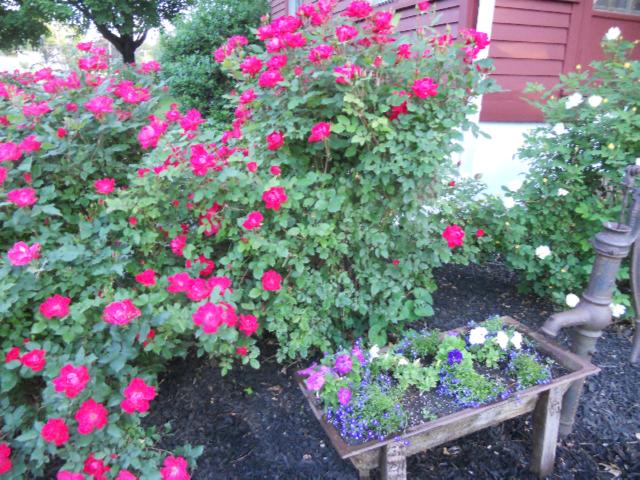 FOOTPRINTS IN THE SNOW
New Jersey has had a pretty hard winter. Of course, being from Syracuse, NY, nothing can compare to an upstate NY winter, they actually have a snowplow on display all summer, telling of the "record" snowfall that winter. Well, every winter is a record snowfall, it seems. lol. But NJersians aren't used to so much snow, I have lived here over 40 years (wow) and do not own a pair of snowboots. I think that is a testimony to myself, that I am a hardy Syracusan and can tough out a few feet of snow! (I may buy some now) I was worried about the robins that seem to stay here all winter long. Robins used to be our first sign of spring, but not so anymore. I wondered, what do they eat when the ground is packed with snow. So, thanks to the internet, I read some robins do stay here and they look for berries and fruit as their food source during the cold winter months. That prompted a trip to the store to buy dried cranberries, raisins, nuts, etc. We have a small pool of water near our window, it is where our sump pump empties. It is clean water and in all seasons, the animals love it. In summer the birds use it as a bird bath as well, and it is a fun place to watch wildlife without bothering them. Our brides wreath bushes bend over this water hole, so the birds use that as a cover from the snow. Each morning, I look out to see what kind of footprints were made during the night. I have seen fox, squirrel, all kinds of birds, a possible coyote, rabbits and some ferrel cats. What is so sweet is when the smaller animals and birds gather together to drink the water, eat the seeds, berries and even apples, together, in harmony, something that seems to be lacking in human society, at times, these days. It is Mother Nature at it's best. The snow is gently falling again, the peacefulness of winter is here to stay for awhile longer. I do enjoy it, with the anticipation of spring maybe....around the corner. Blessings to all, Carol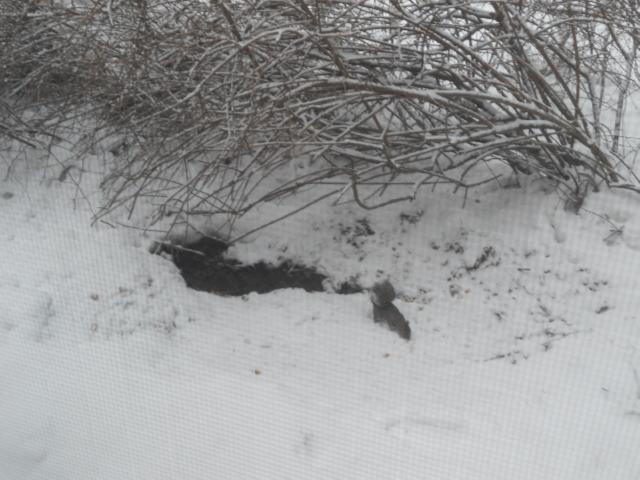 ***********************************************************************************
  GOODBYE 2013...HELLO 2014

 We now say goodbye to the year 2013.  Where did the time go?  The old saying "Time flies" sure is true.   Seems like yesterday, it was New Year's 2012!  Heck, I remember all the fuss over Y2K!!  As I reflect on the past year, I am so grateful for so many things.   Our daughter got married to the love of her life and we love him too.   We are going to be grandparents for the second time, with a new baby due in February to my son and his wife.  We also said goodbye to some good friends that went to be with the Lord.   Sad not to see their faces at antique shows and chatting with them on the phone, meeting them for dinner.  But,that is the way of things.  As we approach 2014, our show contracts are flooding our mailbox.  That is exciting to us.  We love doing the shows.  Each month is marked by what, where and who we will see at our shows.  We are always on the hunt, looking for that perfect and unique primitive.   My sister is always telling me to retire (I am WAY too young, lol)and get out there and enjoy life.  (She is not into antiques)  She has no idea what she is talking about, Steve and I eat, sleep and talk antiques all the time.  You have to absolutely be in love with this way of making a living (and it has been our only way for 25 years, amazing, I know!) to keep up the pace and supply of primitives, that are becoming scarce as hens teeth. My dad always said, "you will be successful if you work at what you love."  Well, he sure was right.  I love to travel through the countryside, and we meet some of the most amazing and enduring folks.   We don't just 'buy' antiques, most of our primitives are hand picked and come with wonderful stories and memories attached to each piece, lovingly told by their owners.   The rocking chair that sat by the fireside all those years in the rambling old farmhouse, now going to a new home, to someone else that will rock their baby or grandchild to sleep. As I walk around the old farm, I see daffodils that were planted years and years ago, now growing wild.   Berry bushes ladened with fruit that were canned to  make delicious pies in the dead of winter.   It's not just buying 'stuff', it is investing in ones life and their memories.  Sometimes, there is a lot of hand holding and hugs that go with a purchase.  There's the  phone call to say, "Your rocking chair now holds another generation, lovingly, as they were told how you loved it.   It is more than a job, it is a way of life.  Wonderful strangers that become friends, and as 2014 starts another year, I look forward to visiting these friends, hearing about their family and enjoying their company.  Seeing customers and fellow dealers at shows that are now kindred spirits.  We will keep you informed on our travels!!  Happy New Year! Carol and Steve
************************************************************************************
**************************************************************************************
                  SUMMER'S END
Seems like only yesterday, I was singing the praises of spring and summer coming after a long winter and now, here we are, the end of summer. I wonder, "where did it go"? I can attest for one major event this spring, the wedding of our youngest daughter, Lauren, to the love of her life, Michael. We were so busy with her shower and then wedding, which was held at Washington Crossing Inn, in Washington Crossing, Pa, very historic, since this is the place George Washington surprised the British on that fateful Christmas Day. Who says the apple doesn't fall far from the tree? It was a beautiful wedding and the memories of that day will last forever. Our show season was full speed ahead, as spring went into summer. We made many trips, looking for the best painted primitives we could find plus all the smalls that compliment a colonial home. Many dealers are changing their venue, selling a different era, since it is so hard to find good, painted pieces, but we prevail. I just cannot get excited selling or collecting anything but what I love, early American primitives. Our hunt went well, came to the shows with some fantastic pieces. The shows have been great, super nice people and of course, seeing old friends as well. Here are some pictures of our recent show at Madison-Bouckville,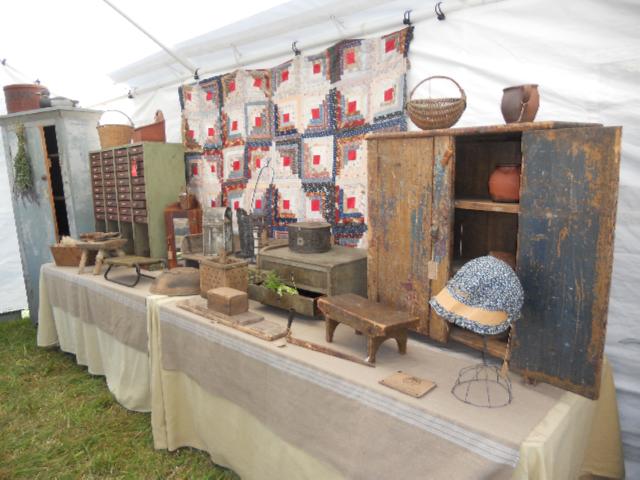 Circa late 18th c to early 19th century, chimney cupboard, all orig paint and surface, Sold at show
                  THE GARDENER IN ALL OF US
Somehow, I became an avid gardener. It rather came out of circumstances, as at the age of seven, my parents bought an old (ancient really) farmhouse that was once a fruit farm. It had every kind of fruit tree known to man and myself, my siblings and anyone else my mom and grandmom could rangle (cousins included) had the lovely job of picking all this fruit (their old saying, 'waste not, want not) all summer long. We had to keep the berry bushes clean of weeds, etc, and there I was, gardening. I loved spending time with my dad planting tulips, chicks and hens, all kinds of flowers. He loved gardening too and it was my special time to spend with him. As I got older, friends and I would go to the nursery and that is like a trip to the candy store for me. I never come away with just a few plants, oh no, I have a full jeep filled with all kinds of new and old friends, ready to plant. One of my friends, who is a spinner, introduced me to all kinds of plants that are used to dye wool, so I have a 'spinners' garden, with beebalm, southerwood, coreopsis, tanzy (grows way out of control) and other blooms used to dye wool. My dried flower garden has lavender, yarrow and a host of other flowers. I was working like mad, cutting the lavender before the rains came. You have to put them in bunches and hang them upside down (all drying flowers) to dry. They smell so good, especially, in the dead of winter, when you can crush the dried blooms and just smell that lavender, makes everything smell so sweet. The herb garden is one of my favorites, I cut the herbs, dry them from my hearth and use them all winter long. I love Pineapple Sage, so delicious in recipes. I am never done with my garden, it is always a work in progress, it definately gets out of hand, has a mind of it's own, but I don't care. Gardens and primitives go hand in hand, whether you have a small area to put a potted flower in an old granite pot or acres of land, the fulfillment is just the same. It anchors us home and makes one feel truly blessed by the wonder of it all.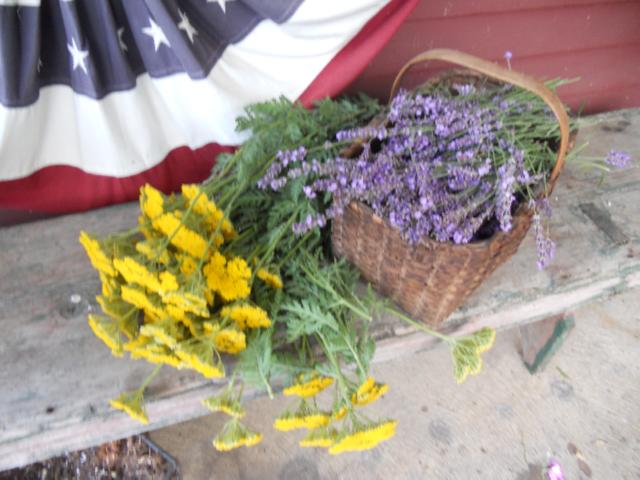 Fresh cut lavender in an antique basket with yarrow, waiting to be dried.
Yarrow drying from an antique grappling hook
Lavender, drying
******************************************************************************************
                    WHAT'S HOT, WHAT'S NOT!!!!
Many years ago, when Steve and I were just getting started in the antique business, (we loved antiques, so why not make it a huge career change) a wonderful, older couple, that had been in the business for years, kind of took us 'under their wing' so to speak. They never tired of showing us the ins and outs of the business, letting us research their huge inventory of reference books when we would come charging into their shop with another great 'find'. I think we recharged them too, with our starry eyed optimism as we ventured into this new and exciting career. One thing that stood out the most in their tutelage was that, like in any other market, certain antiques are 'hot' one year and out of favor the next. As Mary explained, "it is like clothing, one year bell bottoms are the rage, everyone has to have them, and the next year, they are out of favor, you pack them away until they are stylish again." That statement stayed with me. I remember sitting at an auction and watching Roseville selling at huge prices and thinking, 'wow, this must be the hot item this year.' Thankfully, I was never into Roseville. I have always been drawn to those very early primitives, those handmade antiques made out of necessity to sustain home and hearth. Not mass produced, but each one with a story of it's own. THOSE antiques have always sustained value, going up in time. I mean, how many hand made rope beds or dry sinks, redware plates or spinning wheels are there out there? Once sold, that one, special item is gone. No two are alike. They have history. I often ask Steve, 'how many babies do you think were rocked to sleep in that 150 yr old rocker?" Still sturdy and ready for another generation of children. I call them heartfelt primitives, needful things.. Enjoy!
***************************************************************************************
                    The peacefulness of Lancaster County

   Steve and I have been on the road doing shows for the past three weeks.  We decided to take a break and go to one of our favorite places, the farm, in Lancaster, Pa.  Our friends are so welcoming and it is truly, 'home away from home."  We have been going to the farm for over 27 years, so we have kind of 'grown up' with the family, become kind of family to them.  I will never forget after that terrible day on Sept 11, how horrible the world was.  We lost some good friends to terrorists that took down not only the twin towers, but our feeling of safety.  The thought, Never in America, was gone forever.   A few weeks after 9/11, we went to visit our friends.  I was overjoyed with happiness and feeling of love as each of them ran to hug us, so happy we were ok.  I know what the term "kindred spirit" means in these loving folk.   There is a peacefulness about the serenity of the rolling hills of Lancaster County.  Riding along the countryside, seeing hard working farmers toil away, with the satisfaction of hard days work done, from spring to harvest.   It was snowing out, that quiet snow that falls to earth like soft feathers.  The teams were coming in after plowing.  Friendly waves of hello, wow, you came out in this weather?   Just a great day.   Here are some pictures of the day.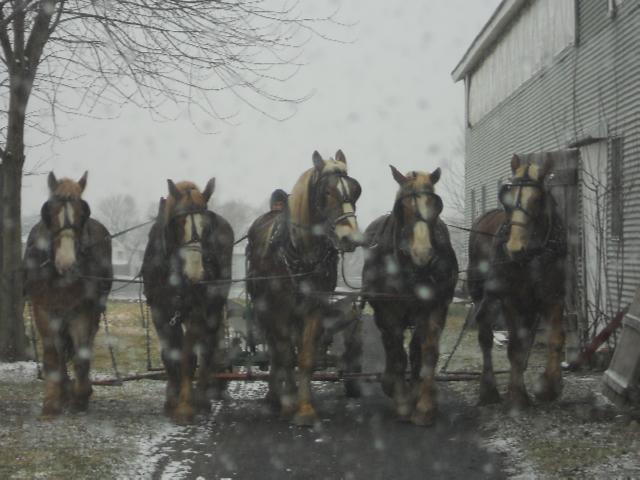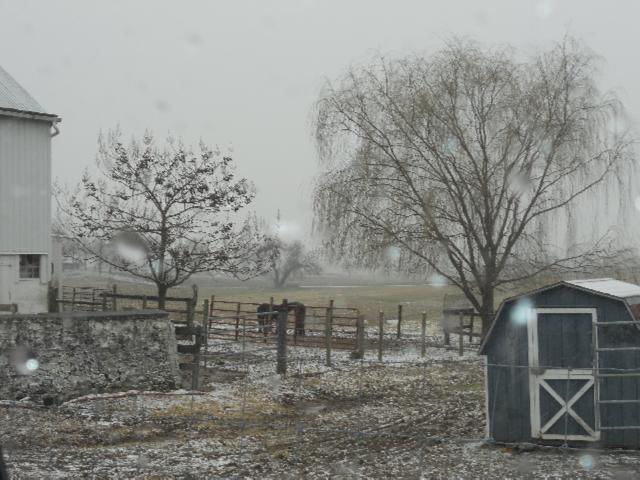 ****************************************************************************************
                MARCH!!!!! IN LIKE A LION, (HOPEFULLY), OUT LIKE A LAMB

  Wow, this has been a crazy winter, with high winds and blowing snow.   This is the first week in March and believe me, it has come in like a LION.  Today, the winds are blowing around 50 mph with threats of rain/snow showers the next three days.  This is devastating for New Jersey, as many residents are still homeless from Super storm Sandy.   The NJ shore is trying it's best to mount the sand dunes high enough to stop flooding and more erosion of our beaches.  Let us hope sunny days are ahead of us.  NJers are used to packing a lunch, their sunscreen, umbrellas and sand chairs and "headed down the shore"!  Actually, I am not a beach person, I love a nice drive to the mountains.  I love the quietness of the forest, listening to the water as it rushes over age old rocks.  Simple, quiet, peaceful.
We just started our show season and it has been wonderful. I was getting an acute case of cabin fever. Just getting OUT and being with friends AND wonderful primitive antiques, well, what could be better. Our show in Long Valley,NJ was super. We had a fantastic crowd and lots of eager buyers. It is so gratifying to sell something you loved and seeing it go to a wonderful new home. Our next show was this past weekend in Bethlehem, Pa at the historic Ice House. What a place and what history. The entire town is history 101. The architecture of the buildings was amazing. This was our first time exhibiting at the Ice House. It always takes a minute to get our 'feet wet' when thinking how to set up our booth, etc. but it worked out well. We had a lovely show, saw some old friends and met some new ones, plus spending the weekend with our dealer friends, who are like family, that also do the show. We will certainly go back next year!! So....we are off to Elverson, Pa this weekend for the show there. We have been doing Elverson for some years now and really enjoy it. What is not to like about spending three days in Lancaster, Pa??? I love it there. We always try to bring fresh antiques to each show, and will do so for Elverson as well. I think my 'cabin fever' is over, with all the shows we are doing, but we love it. Hopefully, by the end of March, it will have warmed up. I saw crocus' in bloom in a friends yard yesterday, spring is on it's way!!!! Pictures of our shows on our facebook page, take a peek. See you later, Carol
*****************************************************************************************
              Silent night, Holy night
Christmas Day is rapidly approaching. Every year, I tell myself, 'this year, I am going to really enjoy the holiday. I am going to do less shopping, less running around with a "to do" list and just relax. Right! Never happens. Yes, this year, I did less shopping. Christmas isn't about presents, well, for the little ones, it is magical, but my kids are grown. They always say, 'mom, we don't need anything, don't stress out". But, there has to be some surprises under the tree, even if you are an adult, so I do shop, did take their advise and slowed down. I love Christmas, and the first hint of the holiday is Choir practice. Yes, I sing in the choir at our church. This year's cantata was" Silent Night, Holy Night." It was beautiful. We start practicing in September, so by Christmas, we are ready. It truly touches my heart to see people enjoying these beautiful songs, as we celebrate the birth of our Savior, Jesus Christ. As the final days before Christmas count down, and Christmas Eve approaches, a peacefulness settles on all of us. All the rushing around, all the busyness of the season, melts away as we celebrate the birth of a small child that came to earth, born in a stable, humbly, but is a King! We love Christmas, a time to reflect on all the blessings God has given us - Peace on Earth, Good Will towards Men. Merry Christmas! Carol and Steve
Our Christmas Tree, old fashioned, of course!!
****************************************************************************************
  UPDATE ON OUR SHOW IN ELVERSON, PA    NOV 10 -11
As usual, our trips to Lancaster become an adventure. Before going to the show, to set up, we had to go to "the farm" to visit. We got there and there was a note in the barn, "we are down the road, at an auction". Oh boy, there is nothing like a country auction. We got to the farm where the auction is being held and it is mostly Amish and Mennonite attending. Looking for our friends when everyone is dressed pretty much the same, well, they found US. Good thing. We had fun seeing all the great old farm implements going for sale and visiting with friends. The day was beautiful and after a week plus of Hurricane Sandy, it was great being outdoors in the fresh air.
THE SHOW:
Our show was fantastic. Early in the show, we sold an 18th century original painted chimney cupboard, it was all original, with rosehead nails. I loved it. We sold some fantastic things. This show is fun to attend, the dealers bring the best of the best and I love walking around to the different booths and seeing such great finds. We had a filled two days with some repeat customers, which is always nice. THANK YOU to all that purchased from us and came by our booth. We always appreciate your kind words on our primitives and positive feedback. See you in March!!!!
Here are some pictures of our booth..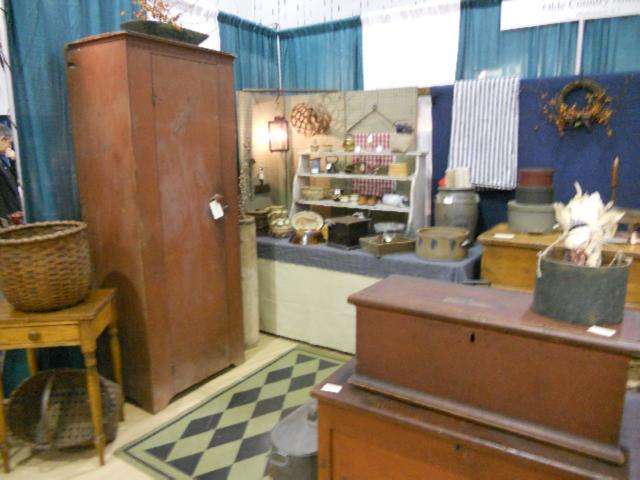 We survived Hurricane Sandy!!
Hurricane Sandy hit NJ and NY with 80 mile an hour winds. It was scary seeing the trees bend to the ground, hoping none fell on our house. None did, thank God. My neighbor wasn't so lucky, with a huge tree falling on her roof, destroying her home. We were without power for four days. I now know how the Amish live, no electricity, etc. We had our kerosene lamps and a generator, but those can do only so much. Nights are very long when it gets dark so early. Now I know how they get so many things done, without tv to interrupt their day. We survived with a roaring fire in the fireplace, plenty to eat and lots of family time, which was fun. We played games, ate way to much and had to slow down a pace or two. Today, I received a call from one of our Amish friends (they called from their phone shanty) to see if we were ok. I reassured them, we are fine and will see them on Friday, before we head to Elverson for our show. It is great to be back to somewhat normal, but for the thousands without shelter, warm clothing, very sad. As a community, we are banding together to help our neighbors who lost so much. Churches and community centers are filled with contributions and Jerseyites are cleaning up the shore towns. Just like the pioneers, even in today's modern world, we need each other, neighbor helping neighbor, extending a hand to a stranger, in need. Thank you to all our friends and customers that called to see how we were. You are all kindred spirits and I am grateful for each and every one of you. Posting a picture pre hurricane, of beautiful fall trees.
*******************************************************************************************
****
"Going Home" has so many meanings..
So many times, I will say, "We're going home!". One friend at my church said, "You are home, aren't you?" and technically, yes, NJ is where we live, my children live, we have our home. But HOME also means where other family members live also. Each spring, I travel to Arizona, to be with my family that live in the West, also, many times during the year, we travel to Upstate NY, where I was born and "my generational roots" are firmly planted. And then there are our very frequent visits to Lancaster, Pa, where 'my family' are wonderful friends who graciously welcome us to their farms. Their family is very large and I feel honored to feel a part of their family as well. As with all the places we visit, I needed to 'go home' to Lancaster, visit and see what's going on with our friends. Well, the farm was buzzing with workers, trying to get the harvests in, before the threatening frost, which would wipe out an entire year of work and profit. Working the land is very hard work, especially when you do it the 'old ways". I am amazed how every stalk of corn, every tobacco leaf, every pumpkin, cantalope, everything, is done by hand. So...what did Grandma say, "Many hands make light work?" How rewarding, at the end of day, to see the fruits of your labor. Here are some pictures of our trip.
OUR WELCOMING COMMITTEE!
GETTING IN THE HARVEST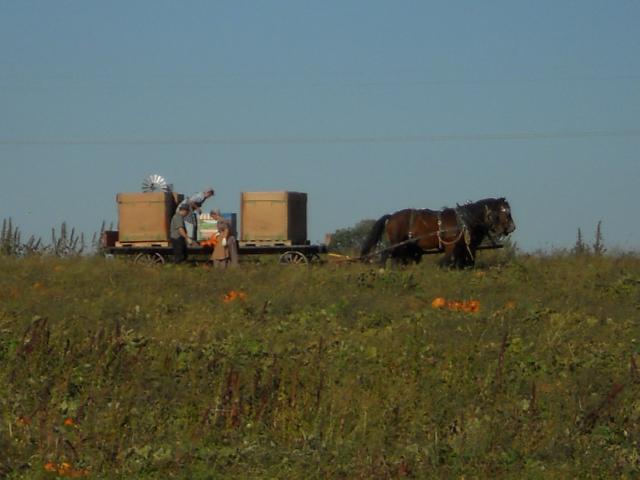 WAGONS OF PUMPKINS, CINDERELLA STYLE!
STACKING THE CORN
Always grateful for God's blessings among us.
******************************************************************************************
BITTERSWEET, OH BITTERSWEET
About this time of year, I become a rather distracted driver!! As I am traveling along, I am looking for that wonderful vine known as bittersweet. First it has a yellow berry, but later, the yellow coating comes off and you have the wonderful orange bittersweet berries, on a traveling vine. These vines wrap themselves up tree trunks and around wild grape vines. I love bittersweet. I make garlands, wreaths and decorate my primitives with these lovely colorful berries. So..as I travel along, I am watchful for yellow or orange berries. We went on a recent house call, and as we were walking along the property, what did I spot? A HUGE tree, ladened with bittersweet. You would have thought I found my pot of gold. The owner was very gracious, told me to cut all I wanted. He didn't even know what it was, how could that be? MEN. lol. So, I got my clippers and cut away. I was in my glory. I piled the huge armful of bittersweet in the van, and the next day, took hours plucking the leaves from the vines. (kinda like plucking feathers from a chicken) The yellow hulls are coming off and the bright orange berries are ready to make wreaths, etc from. The simple things in life, can be the most rewarding.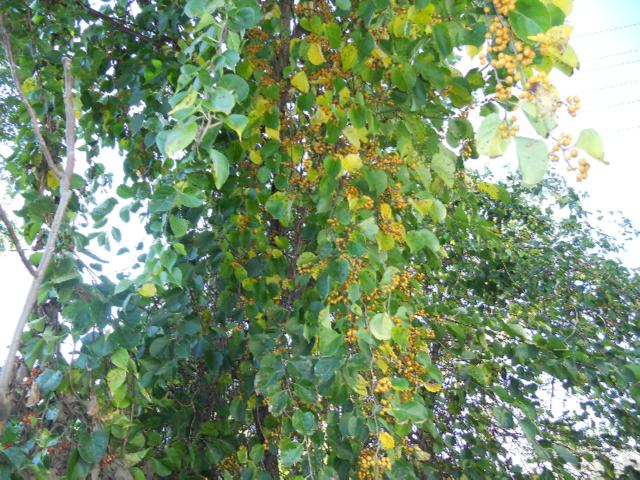 The 'Motherload"
Bittersweet wreath, how pretty
******************************************************************************************
*
                   OUR RECENT TRIP TO LANCASTER, PA
Every few weeks we travel to Lancaster, Pa. It is only one and half hours from our house so it is a pleasant ride. I need to get my 'fix' of the beautiful peaceful countryside. We are fortunate to have friends that live in the Lancaster area, so we always have a destination in mind. Our friends are old order Mennonite and they have been very busy getting tobacco cut and dried, no slight job when it is ALL done by hand. This is backbreaking work and dangerous too. The tobacco is hung from the highest rafters in these huge tobacco barns, each stalk handed to the next man, who is very careful not to fall, which could be fatal. One fall did happen, but he was only half way up and landed in a bed of hay. I loved walking through the barn, looking up as high as possible, at the thousands of tobacco hanging and actually having it touch the top of my head as I walked. Our visit was so much fun, there are always new puppies, baby farm animals and time to sit and visit...relax. I needed this trip after such a fast paced summer of road trips and shows. It was definately time to 'slow down' and the farm is the perfect place to do it. After our visit to the farm, we went, with my cousins, to Sight and Sound Theatre to see the live production of Jonah. WOW, it was spectacular. What a wonderful day. We stayed overnight to enjoy and not rush back home. Of course, we did some antiquing as well, and found some treasures to bring back. Our next show is in Elverson, Pa, (Lancaster area) so we are always on the hunt. Great time, great friends and beautiful countryside. Here are some pictures. The last is an old stone farmhouse that is now a museum. Imagine living in that gorgeous historic home!!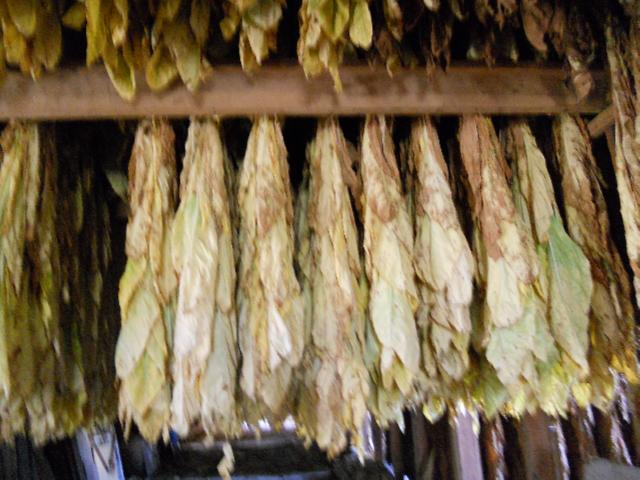 Walking through the tobacco barn
Looking up!!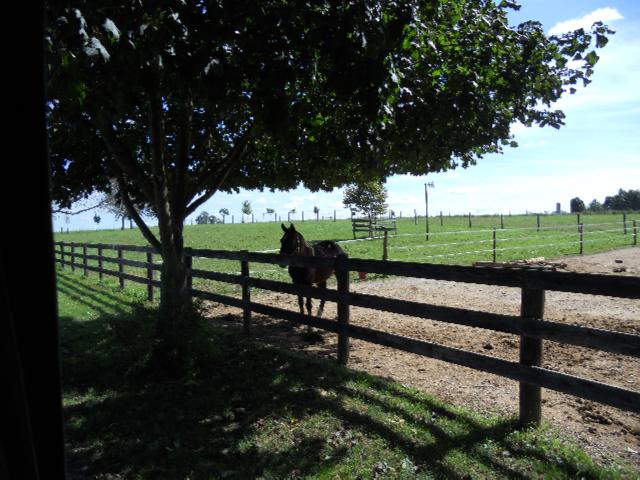 *****************************************************************************************
               FALL CLEANING/REPAINTING THE SHOP/GETTING READY FOR THE HOLIDAYS
We have been on the road for the last few months and it is good to be home. (for now, anyway) After our round of shows, we always give the shop a through cleaning and get ready to settle down for the winter. This time, I decided to repaint the entire store. (in the middle of shows, no less) It was a LOT of work, taking down all the curtains, taping walls, repainting trim, etc but I have to say, it was well worth it. Of course, when you paint one wall, well, it is like opening a can of worms. The next and next has to be done, and before you know it, you have a MAJOR project on hand. I am just about finished and I can't wait to decorate for fall. If anyone knows us, we do NOT rush holidays. We fully enjoy the harvest and Thanksgiving before decorating for Christmas. I have been known to be putting holly on the door Christmas Eve, but that is ok. We all have to slow down and embrace life. The stores and tv always put us in a mad rush to 'get things done' for the holidays and before you know it, you are saying, "I just want Christmas to be over." That is not the way it should be. So,,,we are settling in, enjoying this gorgeous fall weather, quietly working in our gardens and welcoming the harvest. We will be travelling to Lancaster, Pa next week and I will post some pictures of our trip. It has been a month since we have been there, visiting the farm and enjoying friends. I am excited to go! As Tasha Tudor would say, "Take Peace!"
******************************************************************************************
OUR SHOW AT TINICUM PARK, ERWINNA, PA.
Each September we load the van and trailer and head off to Erwinna, Pa to the antique show at Tinicum Park. This is a beautiful park, with it's historic, circa 1700's house, which was used as shelter during the Revolutionary War. (Aren't half the homes in New Jersey and Pa listed as such?) The house is amazing, filled with all kinds of history. I love going to these museum homes, you learn so much and I don't know about you, but I can 'feel' the history in these old rooms, the furniture, lighting fixtures, windows with wavy stretch glass, everything about these ancient homes makes me love Early colonial antiques all the more. I wish I could 'step back in time' for one day and live in that time period. The show was set up in this wonderful park, with all the old barns intact. Some dealers set up in the barns and it is absolutely charming, with thick walls and sweet little windows, antique flooring, so sweet. We have opted to stay under the big tents, my husband likes the wide open spaces. Well, it RAINED and I mean rained. The show promoter, Charlie (great guy) told us it was coming and fast, the rain and wind. We all scattered like crazy, securing antique redware and other breakables, in case the wind blew the tent over. We have been through this before, a few years back. Same space, same tent, same friends (there are six of us in this tent, such great friends!) so we knew the deal. Charlie was right, the rains came and within minutes, I was standing in inches of soaked ground and the water was rising. This park is situated along the Delaware River tow path (yes, George used it) so it floods fast. Well, we left for the night, not knowing what to expect in the morning, but Sunday came, sunny and bright. We pulled up to the tent, all was safe and sound. The winds bypassed us, everything was great. The entire show was fun and we had one of the best shows there. As I said, I love this show. The dealers bring the best primitives, it is fun to visit each booth, visit with friends and marvel at all the amazing antiques. I wanted one of each!! We look forward to next year's show. Let's just hope it doesn't rain!! Blessings to all, Carol Here are some pics of our booth, the park and Steve resting after setting up.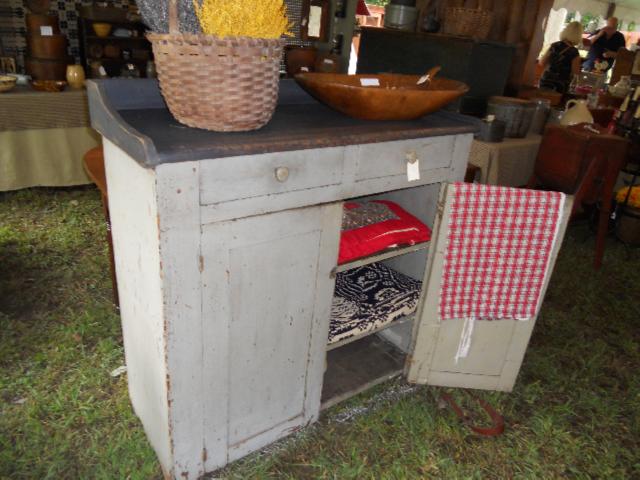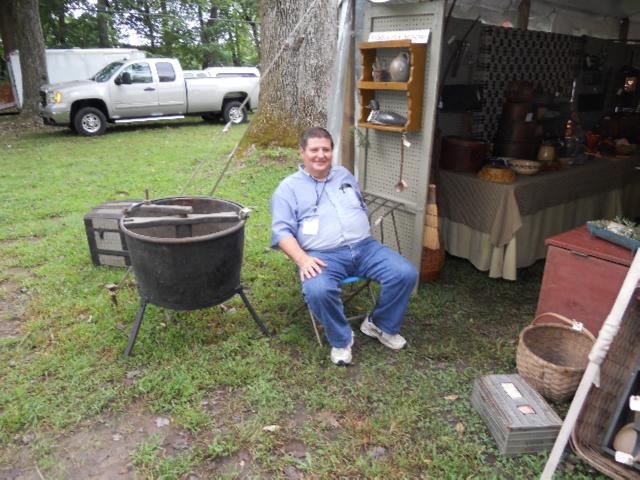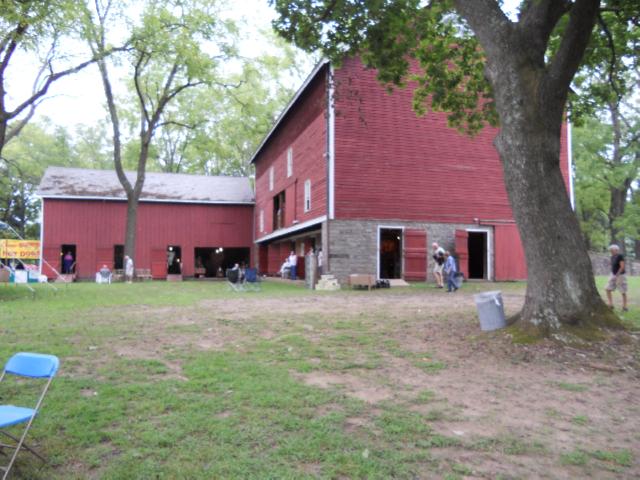 *******************************************************************************************
                    SUMMER'S END
We have had a very busy summer. Where did it go? Days are getting shorter and cooler, (glad of that) and even though there are a few days left in August, you can feel Fall in the air. We have been on the road alot this summer, always looking for antiques. We have had so much fun and met alot of new friends. Our show at Madison-Bouckville was one of the best shows we have had. We spent the entire week at the show, setting up on the "big field" on Wednesday. We had most of our tent up when we realized, we were missing the two end panels to our tent!! What to do now? So off to Lowe's we went and bought two tarps, which worked out fine. Lesson #1, always check and recheck what to take, before going on the road. As we traveled home, I love to ride along (Steve does the driving)and look at the countryside, the deep forests and how the sun shines down through the thick cascade of trees. I always watch for stone fences, made so many years ago, by hard working farmers. They are primitives in themselves, each stone stacked just so on top of another, making long rows of fence. That had to be back breaking work, gathering all those big rocks to make a fence that has survived all these many years, over 100+. We are home now, and there is a ton of work to be done. Weeding the gardens, mowing the lawn, cleaning the flower beds, filling the hummingbird feeder, and just settling down to "home", but my days on the road linger with me for awhile, as I think back to all the wonderful people we met, the laughs and fun in finding great 'finds' and doing what we love to do. And, now we get ready for our fall shows. But first, we travel to the historic and quaint town of New Castle, De for that last show of Summer, on the beautiful bay of the Delaware, savoring those last days of summer!!! Blessings to all.
***************************************************************************************
                    A ROAD LESS TRAVELED                   July 2012

    One of the things I love about being in this business, or should I call it a 'love affair with the past?"  is we get to travel to places of such beauty and what I sometimes think of as the 'heart' of America.  Small towns tucked away on country roads..where people continue to live, raise a family, small farms that speak of another time in our history.  It is almost like 'time stood still' in some of these farm communities, where neighbor helps neighbor and church suppers are a main event.  I love these old towns.  We met so many wonderful people in our travels.  Bought some delicious pies from a church social and was invited to their Sunday picnic.  (after church, of course)  Hard working people, trying to survive in today's economy.  I felt a 'kindred spirit' to these new friends of mine and I cannot wait to go back and visit again.  I know we are welcome and that is the best feeling in the world.   I like a 'road less traveled".  If you are quiet, you can hear the water rush over the stones along the river...God's country, for sure.
Here are some pictures - an old country store, an ancient cemetery with dates back to the revolutionary war and an old farm, we passed along the road.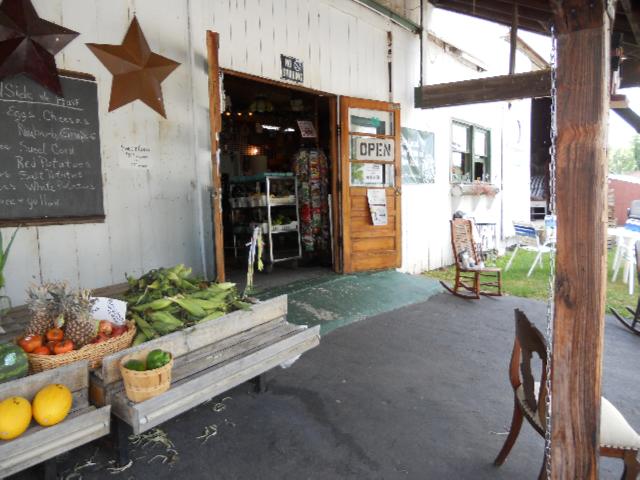 ************************************************************************************
              UP AND RUNNING AGAIN!!!!!
WOW, my computer has been "down" for about three weeks and let me tell you, it has been frustrating. I have not been able to post pictures of new merchandise, or do anything, but now it is fixed, (thank you Steve) and we are up and running again. Right now, we are on a buying trip, going through the countryside in Upstate New York, in search of good painted primitives. So far, we have been able to find some good pieces. We are super fussy about what we buy, we want only original painted pieces in original surface, which is not easy to find these days. Oh, you can find some!! but we are known for our fair prices and some of these great pieces are getting just too dear to buy. That is good news for all of those that have collected over the years! as I have said, time and again, EARLY American antiques will always be highly sought after, as they are all one of a kind, hand made, out of necessity, by ancestors of long ago. So...we are on the hunt and as soon as I get back home, I will post our newest treasures, that include a wonderful hanging pie safe, early mustard hanging shelf, soldier blue blanket chest and other great finds. We are still looking, so hopefully, we will come back with lots of goodies.
While here in upstate NY, I am also researching my Ancestors. I have a ton of family ancestors that settled this area in the 1700's, so this has been a wonderful experience. I feel such a kinship to these long ago family members, was cleaning the graves of two of them the other day; my gg uncle that was in the civil war. Wow, what an honor to relive, through old records, these American hero's of long ago!!! Here are some pictures of the graves of my gg uncle, and his wife. Pic is of Steve. This cemetery is located on the peaceful banks of the Seneca River. There is a huge monument in the center of the cemetery with the names of the fallen soldiers. I found my gg grandfather's grave, he was in the war between the states also, in the Liverpool, NY cemetery along with a slew of other relatives.
*****************************************************************************************
          HAPPY FIRST DAY OF SUMMER
We decided to take a day off and enjoy a trip to Lancaster, Pa. The day was perfect, weather was just right and we had time on our hands to just relax. (Many people do not realise just how much time, energy, travel and money go into this business). Of course, we can never go on a road trip without looking for antiques, it is in our blood!! Our first stop was to visit old friends, catch up on what is happening in the 'antique' world, all of it good!! Then we proceeded to our favorite place, the FARM. Talk about relaxing, the first thing to greet us were four HUGE work horses, coming in off the field. These horses are so friendly, and love to have their noses scratched. We visited with our friends and actually bought a wonderful, small cupboard from them (on website) But we wanted to relax and relax we did. Oh, their flowers are amazing. I am going to plant larkspur next, so beautiful with blues, white and purple and was told, "these dry well, rich colors". That is all I had to hear!! I have been drying lavender and yarrow for a month of Sundays, so excited about Larkspur. We ended the day at the 'home farm' where a new bunch of my favorite dog in the world, just had puppies. Bernese Mountain Dogs are the sweetest, cutest ever and the puppies look like litte bears, so rolly polly. I want one, but will wait until we have enough land for them to roam on, they are huge dogs. We left for home and are now back to work, but will be returning to Lancaster and our friends in early July. Oh, the cherries were ripe and delicious, ready for jam or pies!!! Enjoy this first day of summer, it goes by way to fast...............
Nothing like an antique basket filled with fresh cut flowers to welcome summer. I cut these tonight, despite the heat and hung them to dry. They will brighten those dark days of winter. baby's breath, yarrow and lavender..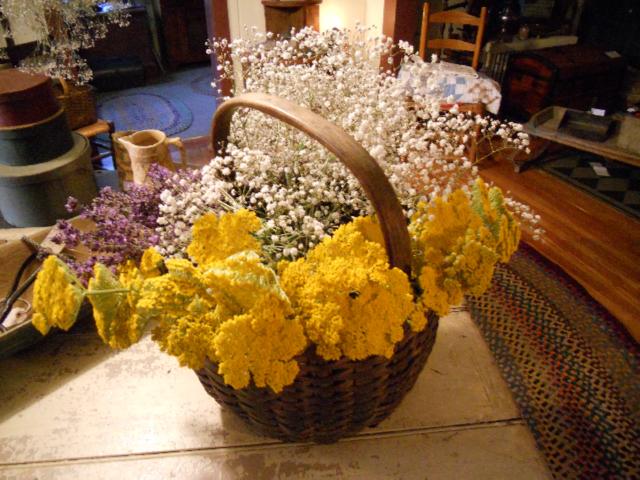 *************************************************************************************
                        HOME AGAIN :)
We were 'on the road' for a week, searching for antiques and visiting with family. We had a wonderful time. I must say, finding GREAT primitives is a challenge. We started out going to our favorite haunts, only to find, some places have closed, others are no longer buying primitive country. One dealer told me, 'it is just too hard to find these great pieces and too expensive for us to resell them" so some of our favorite places are now scratched off our list. We still love to visit with our friends there, but won't be finding any treasures along that way. Needless to say, we put over a 1000 miles on our van and then some and were fortunate to get some of what I consider the BEST in original painted primitives. I will be posting them on our website as soon as possible. The countryside of Upstate NY is so beautiful. I enjoyed my family and really relaxed in those green mountains, beautiful lakes and cool nights. Fortunately, NO rain. Now if you are from upstate (near Canada) you know what I am talking about. It can be raining in one part of the country and not in another. When we do the Madison Bouckville show in NY, the sky can be tricky, dark here, sun there. So...we were fortunate!! We met some new friends and one thing we have in common, the love of primitives/antiques. Now we are home, getting ready for our next show at Tinicum. It is always fun to bring fresh antiques to a show. Then, we will be on the road again, travelling down that old dirt road, hoping to find some treasures at road's end.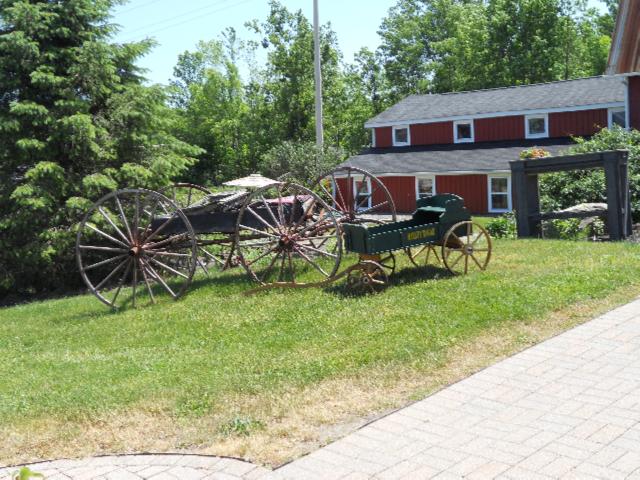 ****************************************************************************************
       BACK HOME AGAIN!!
Every year, I travel to Arizona to be with my family for a huge get together. We started doing this around 26 years ago, after my mom passed away. My dad was so sad, we decided to celebrate his birthday each year with a huge party. We have done so every year since, although dad passed away almost four years ago. My family is amazing. We gather at my brother's home, (I stay there also) and my siblings, cousins, friends, all come for a huge bash. My grand nephew asked, "When are we going to sing Happy Birthday?" thinking back to dad/great grandpa. How sweet! He is seven. While in Az, I visited the antique mall my sister has a booth in. Antiques in the West are different, you can find some primitives, etc but since Az was made a state in 1915, and alot of primitives were left by the wayside, in travelling West, antiques are hard to come by. But....I found such amazing things at this mall. I could easily become a cowgirl, in fact, I spent a considerable amount of time at the Wild West Mercantile Shop, even purchasing some great western clothing, well, let's call it frontier wear. lol. I am home now, back in the East. I feel like Dorothy in the Wizard of Oz, so different are things here, but glad to be home. Bitter Sweet, leaving some of my family behind, but they are always close in heart and...soon...we are on the hunt, travelling to my home in upstate New York. No cactus there, but the green, rolling hills/mountains, that call me HOME every year. God Bless...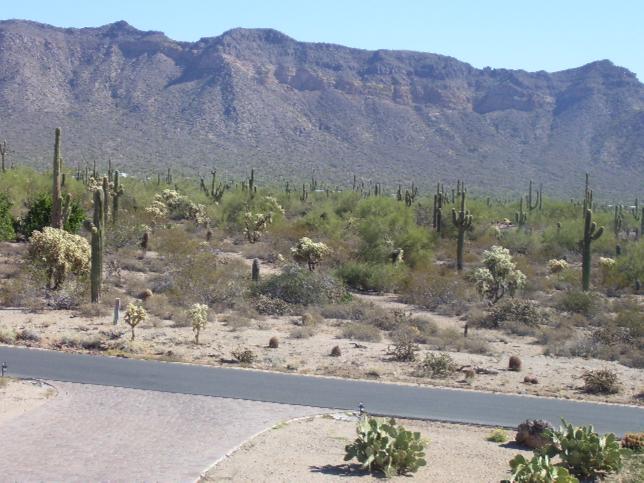 ****************************************************************************************
My granddaughter, Amanda, in colonial night garb, wearing her gg grandfather's glasses. I love this picture, and who says, the apple doesn't fall far from the tree!! lol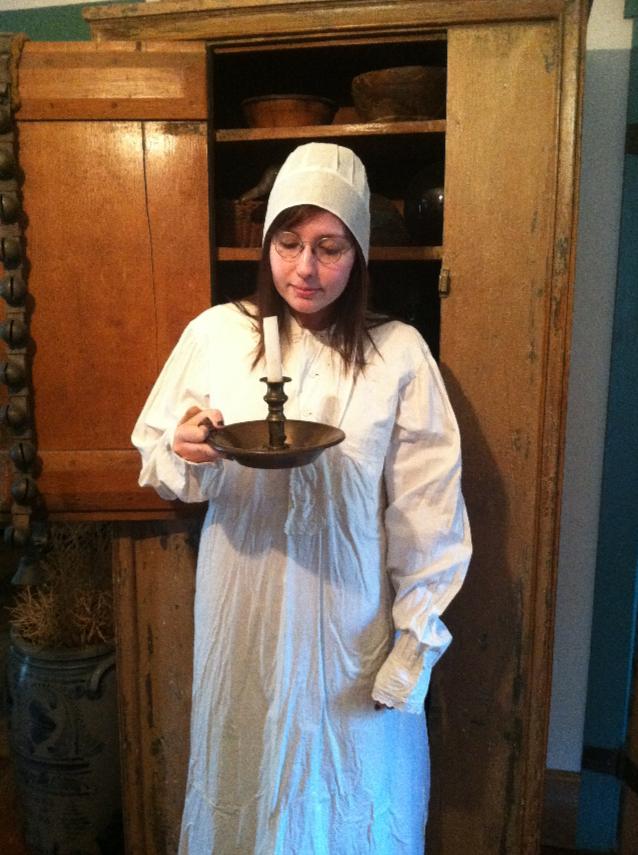 ***************************************************************************************
THIS IS LIL BEAR, CHAIRMAN OF THE BOARD, WHAT A LIFE!!
He is the official greeter here at Olde Country Antiques...he loves everyone!! Sadly, on April 5, 2014, our sweet Lil Bear passed away after suffering a stroke. He was only 10 1/2 years old. We hoped and prayed he would get better, but that was not God's plan for him. The house just isn't the same without our sweet kitty. We miss him dearly.
.....
****************************************************************************************
People always ask, "How do you know about this antique? How do we know what we are looking at? Where did you learn about primitives?" I always say go to Living History Museums, they are the best education you can get in Colonial American primitives. One of my favorite is Quiet Valley Living History Farm in Stroudsburg, Pa. This living history farm museum has re enactors that tell of everyday life in colonial America. If you ask them about something modern, they turn a deaf ear because "they have no idea what you are talking about" Bread making, animal care, how momma copes with raising children in colonial times, pesky critters, daily chores. It is a great place to take your children, as it is a hands on museum. Also, Landis Valley Museum in Pa. I learned so much about open hearth bread baking. They have a Mother's Day Spring flower and herb show that is wonderful and you learn so much about herb cooking. There are so many places to go, it is a wonderful day out for the entire family. Stepping back in time is time well spent. Enjoy!!!!!!!!!!!!!!!!!!!!
www.quietvalley.org
---
---